While
the rest of Asia is celebrating the "birth" of i-mode
in their respective countries, Japan and South Korea are yawning because they've had i-mode for years.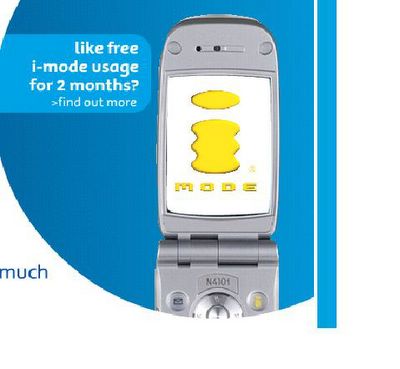 It's just that the rest of the world is too slow.
Previously I've professed my love for the Motorola Razr V3. Now, I've found something waaaaay better. Check these out!
Casio Phone. Didn't know they make phones, only Baby-Gs and digital cameras.
Sanyo phone. Don't they make electrical appliances like microwaves?!
Hitachi "Killer Red" phone. TV manufacturer.
Toshiba "Metallic Green" phone. Another TV manufacturer.
The screens are so big! Look at the resolutions and the product design. I wish we have these here in our local market.
It's amazing what gems you can find in a Japanese magazine. I can't read Jap because I get confused by the hiragana and katakana parts. I just like looking at pictures. =X
Like these Coach thingies. I'm not sure what I can do with them since I've got too many cellphone danglies. But they look nice.
And I'm thinking of getting the wallet (the style of the pink one, but in white) just by looking at it.
Actually I found a real good deal yesterday.
Saw a pair of Birkenstock Madrid yesterday for $50!

Blue birks.
I don't know why it's cheap but I'm thinking of getting it. Then again I have a similar pair, in white.
White birks.
Does a girl need 2 pairs of Birkenstocks in different colors? Am I spending unnecessarily?


.....
I'm blogging so frequently because I have a lot of things on my mind. I feel compelled to write them down so that
should I have Alzheimer's one day, I can read my blog and discover myself complete with my fabulousness/silliness/ingenuity all over again
.
I think I see my friends and family rolling their eyes because I sound so self-absorbed. I just happen to have a lot of things about myself that I want to write about.
Anyway I've blabbed enough for a day.
Mr Brown
and
Mr Miyagi
have some good stuff on their blogs. Check 'em out should you have time. Shall stop now.