PS3 is out.
It'll be in stores next year but the details and actual console are already out. And I have the pics to show for it.
Playstation 3
The System,The Specs,The Games...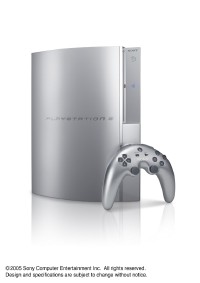 Damn I just have a new PS2. Nevermind.. 1 year is a long time and it doesn't really matter by next year because I would have gotten a job by then. Hopefully.
PS3 (chant with me!)
PS3
PS3
All I want for Christmas 2006 is PS3.
And maybe a
bag
. And a
holiday
. And
shoes
. But for christmas 2005, I'll be grateful if I get PSP. And bag. And shoes.
Actually the list is long.
How I wish wishlist is big in Asia
. Then my friends and family, should they want to get me something, would
get me something I like
instead of things they THINK I would like.

But it's ok, cuz
I love all of you all the same
, great gifts or not. Or no gifts at all.