I was too tired to continue writing last night but I shall continue today.
Well, as everyone should know, I've handed in my thesis report. So I went out to the city and 'celebrated' it my way.
Shopping and eating.
It's the annual sale wars between Myer and David Jones (2 huge huge shopping malls) and
all the stuff were going for 30% - 60% off!
Happy days.
When I reached the city, I felt so much better.
I was in my element
. Anyway the newest thing is World Square, which is this swanky glass building (the whole building consists of mostly glass). Ernst & Young office is there and there is this posh apartments called World Tower ("Sydney's tallest residential building) for god knows how many floors upwards into the bright blue sky.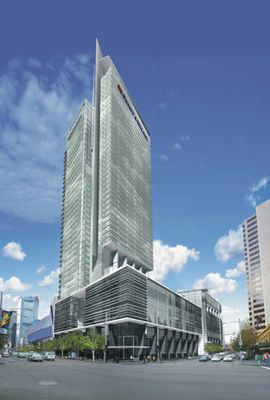 World Square plus World Tower. Anyway I went in to 'explore' the new building and guess what I found.
BreadTop
Doesn't this look familiar?!?! My god, when I saw it
I mistook it for BreadTalk
. So excited until it dawned on me it's not BreakTalk but BreadTop. Not that it matters because they sell yummy looking pastries and stuff. The Asian kind of bread, complete with red bean paste filling. Wah...
The caterpillar. Otherwise known as 毛毛虫 (mao mao chong).
Bought it because it looks so cute. I do buy things based solely from its packaging, don't I? It's quite delicious, all for the price of $2!!
The packaging. I don't think Singapore's BreakTalk has the chinese words on it.
I can't believe I got so excited over an Asian bakery and dedicated one post to it.