I hate myself for being the biggest fickle goon the universe has to offer.
Just because
I couldn't really remember my username for my gmail account,
I happily sent another invitation to myself and opened a new account with a more memory-friendly username. I mass-mailed all my friends who knew about that email account, and
promptly DELETED the former gmail account.

Little did I realise (or remember) that I need invitations.
All 50 of them are fucking gone
.
Nice souls have offered to "give" me their invitations because they have got 50 of them in their accounts but I shall wait for
Google
to bestow me with their hard-to-get invitations.
.
.
.
.
It's been a week (plus minus) and I have got as many invitations as I have first started the account.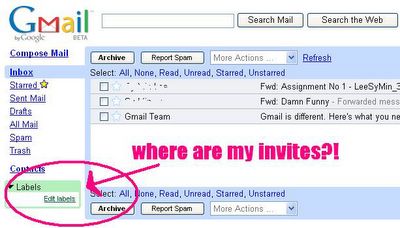 ZERO. ZILCH.
How I curse my stupid fingers for pressing the "Close Account" button. *buries face in hands and sob like there's no tomorrow*
Nah, I didn't and will never curse my fingers because I need them until at least next tuesday to type out my lengthy and verbose thesis report.
I'm the biggest biggest forgetful goon in the world.
*stomps off in rage*
.
.
.
.
Waaaaait. Make that
the biggest biggest forgetful goon in the world with gigantic thunder thighs
.