Yes I know I can't buy anything till I
strike lottery, get generous donations from higher powers, get PERMISSION from higher powers once I divulge my bank statement, get a job
find spare cash lying around.
But I can still look, can't I?

I have set my eyes on a blazer. I'm not sure I should go get it, therefore explaining my self-imposed house arrest since
we all know how it will end if I step into the mall
. I have to fight... temptation.
The battle between the forces of good and evil in my head:
Evil: It's a justified purchase since you will most definitely feel cold in the office (should I get a job) and you won't look out of place!

Good: You already have 2 blazers that you can remember owning. Not to mention hoodies in every possible shade.

Evil: You can't wear hoodies to work. And no you can't wear the same blazer everyday for the same month.

Good: Asia is never THAT cold.

Evil: You should aim for a professional look.

Argh.... the battle goes on.
.
.
.
.
Anyway I like sensible bags.
No sequins, no small clutches that can't even fit my bus pass inside. Roomy bags. The kind big enough to store a small toddler in.
You see, I am graduating and starting my professional life (HAHAHA!!
*
) very soon, so I'm investing my money on stuff that I can bring to the office without looking ridiculous.
Nothing fancy. Nothing flashy. Nothing ugly.

Something like the Mulberry bag.


Very utilitarian.


And as much as I like the Apple Green Mulberry bag, I will most definitely NOT get it. Mainly because of the price and how heavy it is. Why would I lug around a bag that probably weighs as much as an infant everywhere I go?

I am satisfied where I am at. Me away front the counter, ogling at it.


Woooooo I love Mary Janes, especially the non pre-school looking kind.




And I do dress like that! Minus the heels because you and I both know that I have bad sense of balance. Especially in those strappy flimsy kind. But with a well-covered kind, I'm confident I won't fall face first.


Not liking the dowdy coat.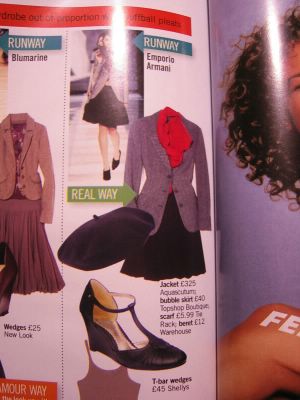 Very headmistress-like. Liking the t-bar though. Again, well-covered heels where the toes don't show are good.

And as for the working outfit, what do people wear to the office in Singapore? My industrial training stint didn't help since SOME of them were too busy preaching instead of looking in the mirror when they got dressed in the morning. I'm sure that's just an anomaly. I know people here wear quite nicely. Very spiffy and professional looking.




* = What a joke. With the kind of money companies pay nowadays, I'm not sure it even counts as PROFESSIONAL. I would have to work at least 6-8 years to break even. And by breaking even, I mean recooping the entire cost of my tertiary education. And we're NOT even counting all that schooling from kindy till pre-uni. We are screwed.